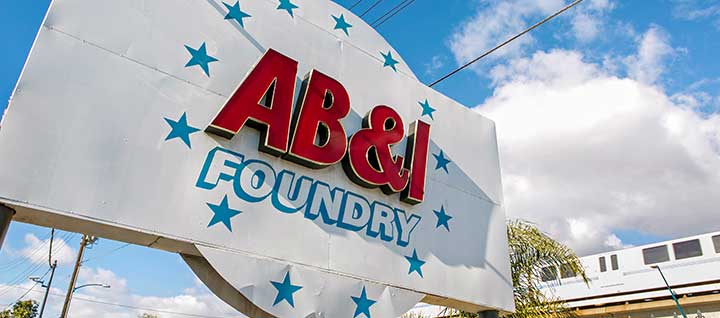 About Us
The AB&I team manufactures high-quality cast iron soil pipe and fittings in a modern production foundry in Oakland, Calif.
Founded in 1906, right after the Great Earthquake and Fire that struck San Francisco and surrounding communities, AB&I began as a small, family-owned foundry that specialized in small iron and brass castings. Over the years, the product mix changed, and today AB&I is a leading producer of no-hub cast iron pipe and fittings, with a full line of products available nationwide.
All AB&I Foundry products are third-party tested and certified by NSF International to meet the requirements of the Cast Iron Soil Pipe Institute's 301 Standard, ensuring that only the highest quality products carry the AB&I brand.
In addition to pipe and fittings, AB&I also carries the full line of Anaco and HUSKY no-hub couplings. When used with AB&I cast iron pipe and fittings, these couplings complete a fully NSF-certified, end-to-end DWV system, guaranteed to perform to the highest standards.
AB&I Foundry
7825 San Leandro Street
Oakland, CA 94621
Phone: 510.631.3457
Toll-free: 800.GOT.IRON
Fax: 510.633.8035