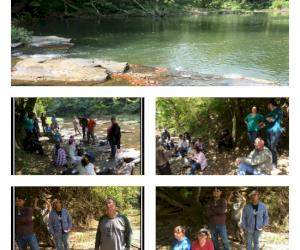 Amerex recently partnered with the Freshwater Land Trust (FWLT) and the Cahaba River Society (CRS) on a project to clean up the Moon River Access on the Cahaba River.  This property is owned by the FWLT and they plan to develop the site with a parking lot and trail to the river for local boaters.  It will also be a Cahaba Blueway access point.  The Cahaba Blueway is a comprehensive canoe trail that runs through central Alabama.  Along the five mile downstream stretch boaters can experience four Class II rapids and numerous smaller ones.  The upstream stretch has some great scenery and lighter whitewater.
The CRS conducted two short classes for the workers to introduce them to the biodiversity of the river.  The clean-up took three days and the 30 workers cleared serious amounts of privet which had choked out native plants.  The amount of privet that was cleared and the trash they gathered was impressive.  The debris was piled up for pick-up by the Leeds Department of Parks & Sanitation
Special thanks to Mark Lewis who was the "on the ground" leader from Amerex on the project and to all of the Amerex team members that participated in the clean-up.  It is important that we strive to sustain natural resources and our environment for future generations.