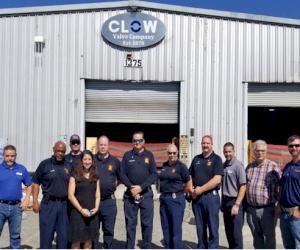 Clow Corona was pleased to have the opportunity to host members of the Riverside County and Cal Fire team today for a plant tour to help them gain a greater knowledge of our operations and how our products are made.  A great deal of interest was given to the breakaway valve that seals itself and effectively shuts a line down in the event a hydrant is hit by a car.  There were lots of great questions and discussions. 
Fire Prevention Technician Paul Leach said, "The tour of the Clow/Anaco hydrant plant was amazing.  Could not believe how much goes into fire hydrant production.  More impressive though were the people involved. James, Jose, Larry, Maria - Wow! What exceptional representatives for their company! From our hosts to each and every man and woman on the line, to sales office, this facility oozed of pride and camaraderie. It was a pleasure to see the company values displayed above us. Each employee seemed very proud to be a part of the process. Not only did I learn a bit more about the fire hydrant manufacturing process, I learned more about team work and pride of workmanship. My tour was a pleasure today."
Clow Corona would like to host tours in the future to help raise awareness about the quality of our products and the vital role they play in saving lives every day.