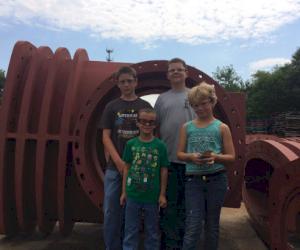 Thirteen members of the local Delta Kids Club had the opportunity to tour the Clow Valve metal casting facility and machine shop last week.  They got to see how fire hydrants are assembled and how iron and brass castings are made.  Visitors also like to see hot molten metal being poured.  Clow Valve team members and parents Jeremy and Maggie Goldman, Chris Stanley and Tony Ingle were proud to serve as guides on the tour.
The Delta Kids Club members meet monthly to plan and participate in monthly service projects and on occasion they have field trips like the one at Clow Valve.  They concluded their tour with a pizza party in the conference room. 
The kids had a great time!