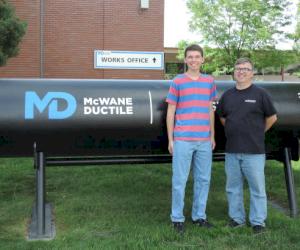 McWane Ductile-Utah team member Scott Paulsen is a proud father these days.  His son Derick is not only graduating from Springville High School with a cumulative GPA of 3.998, but Derick was awarded one of the ten 2016 McWane scholarships. Derick also just received his eagle scout award, scouting's highest rank that is earned by only six percent of Scouts today.
After completing a two year mission trip in Mcallin, Texas, Derick plans to attend Utah Valley University or Brigham Young University.  He is still undecided on his major but is considering a major in chemistry.
We wish Derick the best of luck as he continues his education.