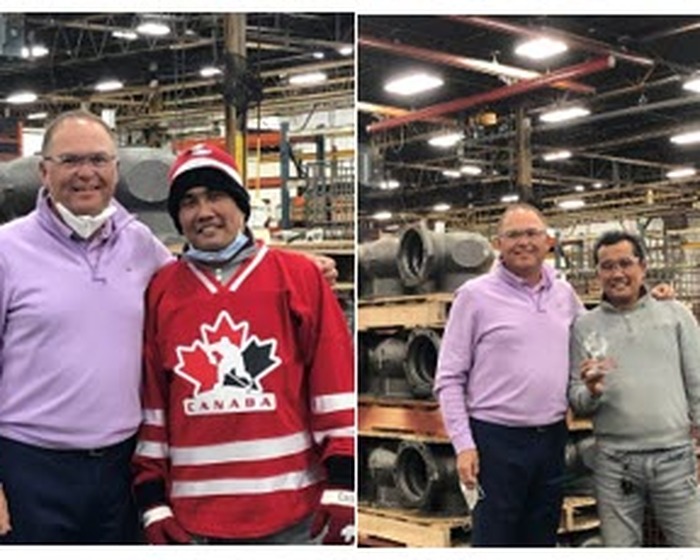 This week was a week of celebration for Clow Canada (CCN) production supervisor, Jessie Otilla, who learned he was granted Canadian citizenship. He and his wife, Eden, and their children immigrated to Canada from the Philippines in 2017. 

Jessie works tirelessly to help other Filipino immigrants navigate their way through the immigration process, language barriers, challenges finding employment and housing and overall day-to-day life in Canada. He also helps Filipino workers at other McWane operations in Canada. He is a true hero, and we are extremely grateful for his contributions to make Canada a better place to live and proud to have such an ambassador working with us.

Of course the CCN team is of the opinion that you're not a Canadian citizen until you have a Team Canada hockey jersey to don, which the team happily provided.

Additionally, Jessie was named the first McWane Canada Humanitarian Award recipient in recognition of his commitment and dedication to the community and his fellow team members. He was presented a trophy to commemorate the award, and a donation of $1,000 will be provided to his charity of choice, further extending his impact on the community.

Established this year, the McWane Canada Humanitarian Award will be presented annually in recognition of a McWane Canada team member(s) who goes above and beyond to improve the health and wellbeing of others –at work as well as in the community.
 All McWane Canada team members are eligible, and nominees must meet the following criteria to be considered:
 Promotes and upholds The McWane Way principles, values and behaviors both inside and outside of work
Engages in the community and community events, addressing the needs of a specific group of people
Makes an impact in the lives of others outside of immediate family
Shows a large degree of humility and empathy