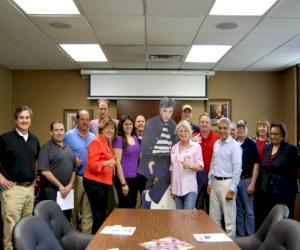 McWane Corporate EHS Team
The McWane Corporate EHS team kicked off the Get Fit for Route 66 Program today complete with music by Elvis Presley, frozen yogurt sundaes and even a hula hoop contest. If you haven't hula hooped in a while, I assure you, it's not as easy as it was when we were kids.  Karen Dorsett was "pink lady for the day" and got everyone excited about the program.
They're looking forward to making the journey down nostalgic Route 66!