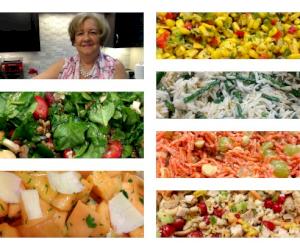 On Monday, June 22, to kick-off the Feel Like A Million campaign, the McWane corporate office team in Birmingham, Alabama was treated to a nutritious and delicious salad buffet prepared by McWane Vice President of Health & Safety Barb Wisniewski.
Barb prepared an array of healthy salads with plenty of whole grains, fruits, nuts and vegetable options!  Not only were participants able to accumulate dollars for their fruit and vegetable intake, but they also gained virtual money by making meaningful connections!
Healthy eating is a great way to earn money in your virtual bank account. What steps are you taking to Feel Like a Million?