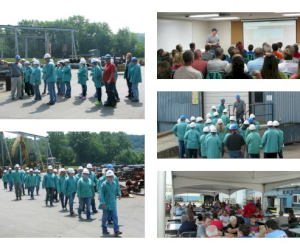 On Friday June 12, 2015, MDO sponsored a Family Tour Day for over 130 MDO family members!  For the first time in over 40 years, family members over the age of twelve were given an opportunity to tour the facility and see their loved ones at work.
The day began with a presentation about the facility and the products manufactured there given by Vice President/General Manager Tom Crawford and Operations Manager Joe Carter.  Safety Manager Frank Kline followed with a safety briefing and all participants suited up in the appropriate personal protective equipment and were off for the plant tour.
After the tour, team members and tour groups were treated to a delicious cookout style lunch and given the opportunity to watch an EHS-HR Safety Awareness video by McWane President Ruffner Page.
It was a wonderful way for the MDO team to show their family members what they do every day MDO and it was obvious that the family members appreciated the opportunity to see their loved ones at work.