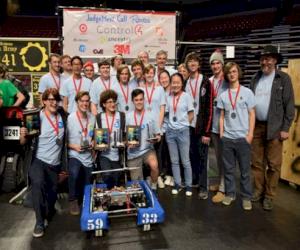 McWane Ductile-Utah (MDU) recently sponsored a local high school robotics team to compete in the FIRST® Worlds Championships. The Judge Memorial Robotics Team (aka,"JudgeMent Call") won Best Rookie Robotics Team at the Regional Championship in Salt Lake City this spring and raised money from local businesses including MDU to fund their next trip to the World Competition in St. Louis, Missouri.
JudgeMent Call ranked in the top 20 out of 900 teams participating at Worlds. Those 900 teams represented more than 50 nations around the world. Considering the majority of the team members were high school freshmen, these rookies plan to use their experience next year to place even higher.
Congratulations to the JudgeMent Call team!