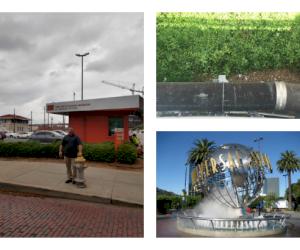 AB&I team members Jennifer Grundell and her dad, Alfredo Costa recently spotted pipe produced at AB&I while on their family vacation in the Golden State of California at Universal Studios Hollywood, a film studio and theme park located in Los Angeles.

While over in the Lone Star State of Texas, Clow Valve team member James Banicky spotted this Clow hydrant in Dealey Plaza by the book depository in Dallas, Texas where significant evidence of a sniper was found following the assassination of President John F. Kennedy.

James said, "It's nice to see that our products are trusted enough to help preserve things that have such a great impact on our great country even to this day."