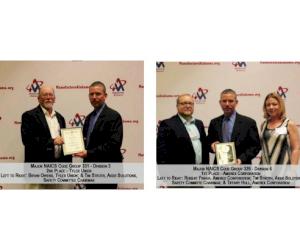 We are pleased to report that Amerex and Tyler Union were both recognized for safety excellence at the 2017 Manufacture Alabama Safety/Heath/HR conference on April 27-28, 2017. Amerex came in 1st place in the 2016 Safety Achievement Program in Division 4 (Major NAICS Code 339).  Amerex Safety Manager Robert Fisher Tiffany Hull accepted the award on behalf of Amerex.

Tyler Union (TU) came in 2nd place in Division 3 (Major NAICS Code Group 331) with the lowest total recordable injury rate (TRIR).  TU was also presented with the Governor's 2016 No Lost Time Certificate by the State of Alabama Department of Industrial Relations.  Safety Engineer Bryan Owens (pictured accepting the award) and HR Manager Anthony Whitley attended the event on behalf of TU.

Manufacture Alabama is the only trade association in the state dedicated exclusively to the competitive, legislative, regulatory and operational interests and needs of manufacturers and their partner industries and businesses.

Congratulations to the Amerex and Tyler Union team members for this recognition of their hard work and commitment to working safely each and every day.