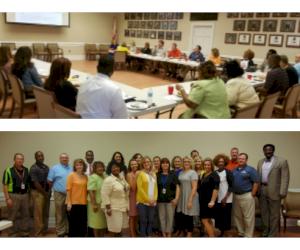 Tyler Union partners with the Calhoun County Chamber of Commerce on several programs that focus on youth and education in their community. One of those programs is Partners in Education which is made up of business leaders, government representatives, educators, and school administrators from Calhoun County who share ideas and look for ways to promote and strengthen education, while building bridges with business and industry. The goal is to expose students to work opportunities within the county to help shape their educational pursuits. To achieve this, committee members help with everything from job shadowing opportunities for high schoolers to mentoring elementary and middle school kids and participating in career fairs, school club days and organizing hands on efforts for schools.

Tyler Union Assistant General Manager, Steve Johnson, who also serves on the Chamber Board of Directors, recently had the opportunity to speak at the Partners in Education luncheon offering insight into the Tyler Union workplace, including potential job opportunities for students with skilled trades and postsecondary degrees. As a product of public education in Calhoun County and now an employer in the same, Steve was able to dispel the myth that graduates must go elsewhere to find employment opportunities by discussing his own career journey.

Tyler Union HR Manager, Anthony Whitley also attended the event.