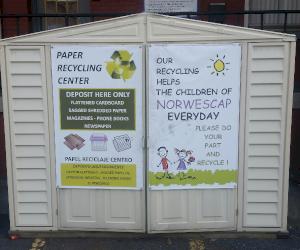 McWane Ductile-New Jersey (MDNJ) has a Community Advisory Panel (MDCAP) that meets on a monthly basis.  The purpose of the MDCAP is to establish a forum for the regular candid and constructive communication MDNJ and the local community.  The MDCAP contributes approximately $60,000 annually to community projects, organizations and events and MDNJ makes separate donations to the local community. For example, MDNJ recently revamped their locker room and donated the left over lockers to a local homeless shelter.
They donate quarterly to five local food banks which help feed those in need with a meal on a daily basis.  They also awarded 8 scholarships in 2015 to local high school students ($2,000 each) to help further their education.  During the holidays they participate in the Polar Express and supply tickets to families who would not be able to afford this event and provide hats, gloves and food to local residents at the annual tree lighting ceremony. They also adopt families during the holidays and provide presents and gift cards so every child will have something special at Christmas.
A few of the charities the MDCAP has supported are:
Big Brother Big Sister
Safe Harbor Homeless Shelter
Wounded Warrior Project
Cancer Support Community
Wrangler to the Rescue
Relay for Life
Steele Hill Youth Organization
Boy Scouts of America
MDNJ also encourages team members through the CAP to get more involved in the community. Pictured is one of the many sheds they have throughout the facility where team members put cardboard and paper items for recycling to help Norwescap, a local children's center that provides summer classes and after school programs.