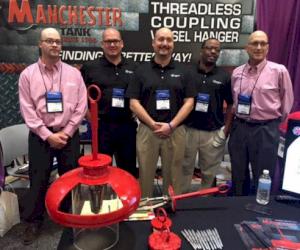 We are excited to announce that the winner of the 2014 McWane Ergo Cup Competition, Manchester Tank Quincy (MTQ), went on to win the Workplace Solutions 1 which is based on Team-Driven Workplace Solutions with Internal Competitions Category at the National Applied Ergonomics Conference!
This year, some of the other companies they competed against included Yamaha, Gulfstream Aerospace, Volkswagen, Honda, PPG, Timken Bearings, and Coca Cola, among others. We are particularly proud of the fact that we have been a winner 4 of the 6 times we have entered. Previous McWane facility winners at this National Competition were Clow Valve Oskaloosa, Pacific States, and Manchester Tank Elkhart
McWane Vice President of Health & Safety Barb Wisniewski said, "I'm looking forward to this year's McWane internal ErgoCup to see additional winning projects – start getting your team projects ready, so we can send another potential national winning project to the 2016 competition!"
Congratulations to the entire MTQ team!