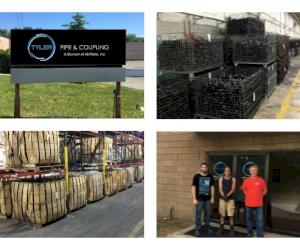 The Tyler Pipe North Eastern Distribution Facility is finally open for business.  This 66,000 square foot facility sits on six acres of property and will service the bustling New York market.  The warehouse is stocking fittings, gaskets, seals and short lengths of pipe inside the facility.  As soon as the storm water permit is approved, they will build up a stock of larger diameter Tyler pipe. They have plans to service the North East all the way down to Virginia and possibly as far over as Ohio.   
South Plainfield is just fifteen minutes from New York City where sales are always on the increase as commercial buildings are constructed.  Distribution Manager Jerry Koslosky said, "Our competitive edge is that we are going to keep all of our product inside and out of the elements so we can offer our customers the best product available on the market today."
The Tyler Pipe East Distribution Facility is off to a good start and within months will have the product and location to provide top quality pipe, fittings and gaskets to customers on a moments notice.