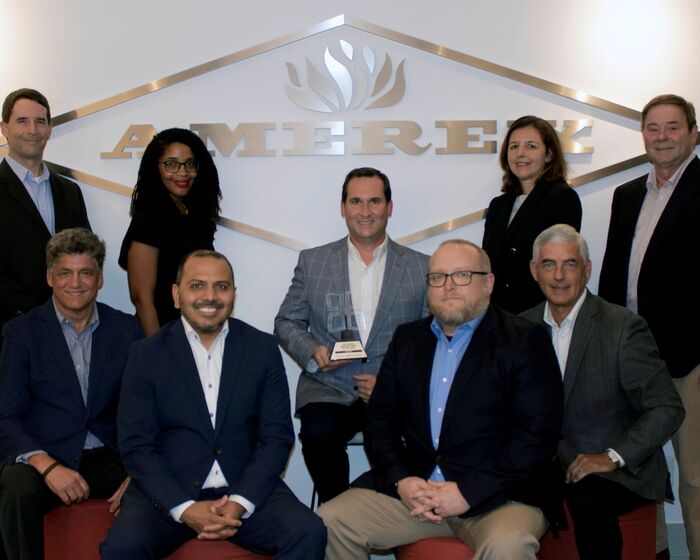 Photo: Front L to R: Ben Pitts, VP – Sales & Marketing; Jay Ghelani, VP of Operations; Robert Fisher, Health & Safety Manager; Andy Payant, CFO; Eric Reed, Controller; Jacy Whitaker, HR Director; Harrison Bishop, President; Susan Ray, Marketing Manager; Jeff Layfield, Senior Production Manager
TRUSSVILLE, Ala. (Oct. 5, 2021) – Amerex Corporation, a division of McWane, Inc. and an international leader in the fire suppression industry, was recently named 2021 Alabama Large Manufacturer of the Year, an honor presented by the Business Council of Alabama and Alabama Technology Network. This prestigious recognition coincides with Amerex's 50th anniversary.
"This great honor is the culmination of 50 years of team member dedication and investment in our business," said Harrison Bishop, executive vice president, McWane Fabricated Metals Group, and president, Amerex. "The Amerex team will use this recognition as inspiration to spur future growth and improvement in our industry. Along with McWane, our fellow nominees and other Alabama manufacturers, we want to continue moving Alabama manufacturing forward to highlight innovation and excellence throughout our state."
This annual statewide award, selected by a group of independent judges, celebrates Alabama's top small, medium, large and emerging manufacturers. Winners were chosen for their excellence in the areas of customer focus, employee commitment, operating excellence, continuous improvement, profitable growth and investing in training and retraining.  
Amerex was nominated for this honor by the Birmingham Business Alliance, an organization focused on economic growth and development for the Birmingham seven-county region.
"Amerex is one of the most reputable and recognizable brands around the globe, and we are proud they call Alabama, the City of Trussville and the Birmingham region home," said Birmingham Business Alliance partner, Mark Brown, who has worked with Amerex on several expansion projects throughout the years. "Manufacturing is a strong and important industry in our region that is sustained by companies like Amerex because of their commitment to excellence, quality, innovation and community. That's why Amerex is so deserving of this Manufacturer of the Year recognition."
To learn more about Amerex and the company's longstanding history of recognition in manufacturing excellence, visit https://www.amerex-fire.com/corporate-responsibility/awards/.
About McWane Inc.
McWane, Inc. is a family-owned business based in Birmingham, Alabama, with companies across the U.S. and around the world. The McWane family of companies casts ductile iron products, including pipe, valves, hydrants, fittings and plumbing products, and manufactures fire extinguishers, fire suppression systems and steel pressure vessels. McWane is a leader in delivering clean, safe drinking water while focusing on safe, environmentally friendly manufacturing processes. With more than 7,000 team members, McWane has a longstanding commitment of supporting the communities where our team members live and work. For more information, visit mcwane.com.